"IT WILL BE GLORIOUS"!!
This WebSite is dedicated to the novice bladesmith and is meant to encourage them as they pursue the creation of their own imaginative weapons.
Use the links at the left side of the screen to follow along as the artist DaQo'tah creates weapons of his own fantasy designs.
There is a place to contact DaQo'tah, or just email him at-
daqotah@hotmail.com
The DaQo'tah Forge website contains many helpfull photos and I have made a point of adding lots of interesting text for you to read while loading.

If you dont clean your computer's FILES, Your next visit should have the photos loading much faster,
(hint-hint, visit my site again!)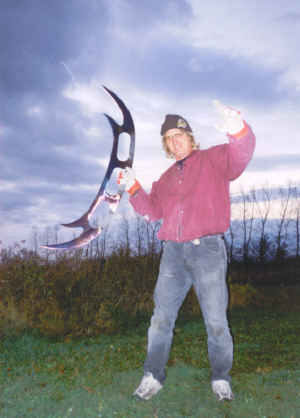 It ain't heavy, Its my sword well, actually it is a bit heavy...
( Before you go, make sure you write to DaQo'tah and tell him what you think of his website, and how you found it)
oh by the way, you are number...
since I reset this counter on 1/1/02
Unknown Gem Type: tlx.tlxinv.guestbook
*If by chance accidental copyright infringement has occurred, we will comply with all U.S. and international copyrights. Star Trek, and all related material are copyrighted by Paramount Pictures. All rights reserved. No copyright infringement is intended by the owner of this site. This is a non profit site, no money is earned nor solicited from it. Reference to any and all "Star Trek" related material is strictly for the intent of discussion, and and is protected by law, under the first amendment of the United States constitution. Do not steal from this site. If unlawful theft is discovered, violators will be held to the highest ends of the law.